How to record iTunes music to MP3 format?
Apple contributed the world with amazing products. iTunes is just one of them. iTunes is a proprietary digital media player application, used for playing and organizing digital music and video files. The program is also an interface to manage the contents on Apple's popular iPod digital media players as well as the iPhone. Additionally, iTunes can connect to the iTunes Store via the Internet to purchase and download music, music videos, television shows, applications, iPod games, audiobooks, various podcasts, feature length films and movie rentals (not available in all countries), and ringtones (available only in the USA). With its powerful abilities, people just love it. If you are listening to those free music or radios, you may wonder how to record iTunes music or how to record iTunes music to MP3. Apart from Classical, Comedy, iTunes Radio music also includes Country, Hip-hop/Rap, Jazz, Kids, Pop, Rock, World/international music and so on. You must have come across some nice music in iTunes radio music? Do you want to record iTunes music from iTunes radio station? The truth is to record iTunes music is easy. Audio Recorder has been listed as the best iTunes radio recorder in 2009. This iTunes radio recorder can record iTunes music to MP3, record iTunes radio to MP3 quickly. ITunes radio recorder could meet your needs fully without daunts, which is invented to record iTunes music to MP3, record iTunes radio, songs to MP3 for any MP3 player.
How to record, rip iTunes radio to MP3 with iTunes radio recorder?
This detailed guide below will tell you how to record iTunes music to MP3 with this iTunes radio recorder.
Step 1: Download and install Audio Recorder.
Audio Recorder is the best tool to record iTunes music to MP3 format, and it has a trial that limitaed by 100 seconds recording.
Step 2: Launch Audio Recorder. And click

to set output music format.
Before recording music from iTunes radio, you can set the output music format as MP3, WMA, WAV, AC3, M4A, AAC, OGG, APE etc. The default format is MP3.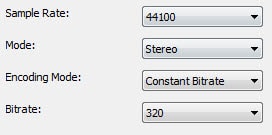 Step 3: Activate iTunes, and play songs by clicking Music or Radio and selecting any piece of music or music genre station as you like. And then click

to record iTunes music to MP3 format from iTunes music or radio stations.
When iTunes radio is playing, iTunes radio recorder can detect the music signal and record iTunes music to MP3 automatically.
Step 4: Click

to check the recorded iTunes MP3.
After recording iTunes music, you may enjoy them on your iPod, etc. And you will enjoy the experience of recording iTunes music. Many people are actually doing this. Join them now!
Related
How to record Skype calls with Audio Recorder?
How to download/save imeem songs with imeem downloader?